*State Certified Minority/Woman-Owned Small Business*
TheBeWellBox™: An Emotional Life & Mental Wellness Kit for Individuals, Groups, Classrooms, & Families.
The Box that guarantees a return on your investment!
The product vision and design are built on an evidenced based and promising practices foundation. With a mental health education and social justice background, our founder has engrafted cognitive behavioral theory, social emotional learning, emotional intelligence, and motivational interviewing into a creative resource for everyday discussions. No setting or location is off limits. We champion emotional wellness in the classroom, individual & group therapy, the living room, the dorm room, the office, the car, and the boardroom!
The key components:
Choosing the option of recalibration to regain emotional stability.


Creating an atmosphere to safely discuss emotional & mental wellness.


Introduces a unique way to deal with very important topics.


The use of interaction with self and others that rebuilds community.


Using evidence-based resources for everyday life and conversations.


Strengthening the focus of communication through verbal and listening skill development.


Challenges everyone to practice a new narrative (#NewNarrative).


Interactive skill development that comes through a natural progression of real time discussions, thoughts, and behaviors.


Highlights the importance of words, thoughts, and behaviors.


Minimal training for maximum engagement!
TheBeWellBox™ is inviting and determined to offer a recalibration and renewal from the status quo of how we do relationships and connections. Our emotional health and mental health are required in every area of life. Therefore, we invite you to #BeWellNow. Get your box at: www.themadiselgroup.com
Visit the website for a visual of this resource. Call us for a live or virtual demonstration and product review 904-233-5417.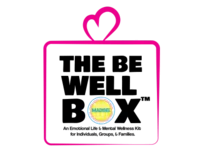 Madisel Group, LLC created and supports the #NewNarrative & #BeWellNow Initiatives. These initiatives propose that we each become more aware of the importance of our emotional and mental wellness by actively working to strengthen those areas. A change in the behaviors of what we think, say, and do are required. @MadiselCoach ©2022 All rights reserved.